Floor Restoration & Surface Preparation
From rough grinding and lippage removal through honing and polishing
to a high gloss natural finish - Concrete, Granite, Marble & Terrazzo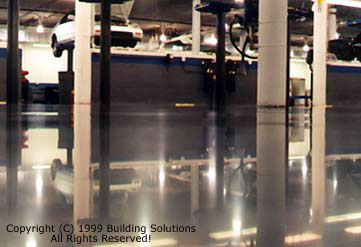 Picture courtesy of Building Solutions -
Tel.: (480) 831-0024 for all your Concrete needs
Concrete Floor Restoration
Pure mechanical, dust-free diamond grinding, honing and polishing -
60 to 3000 mesh RRD Series Professional Dia-superabrasives
No epoxy, no urethane, no topical or any other coatings!
Pure, natural high gloss finish - Gloss reading over 79 units

Cementina
Concrete Polishing System
.
Direct
Diamond Tool Products Canada
Reliable, Cost-efficient Diamond Tooling
Call Us Toll-Free at 1-888-673-2222 US-wide & Canada

Tel.: (514) 576-1222 | Fax: (514) 939-6016
E~mail: diapro@bellnet.ca

Products:
GRANITE FABRICATION l FLOOR RESTORATION
User Specifications -
TECHNICAL NOTES & END-USER MANUALS

www.Diapro-Canada.com
Copyright © 2000-2001 diapro-canada.com All Rights Reserved.
Last updated March 2001
Building Solutions, Alpha Professional, Diamond Tool Products Canada, Horiba, Original
FLEX, Sanwa Kenma and RRD Professional Series are names, registered names
and/or trade marks of their respective owners.
.